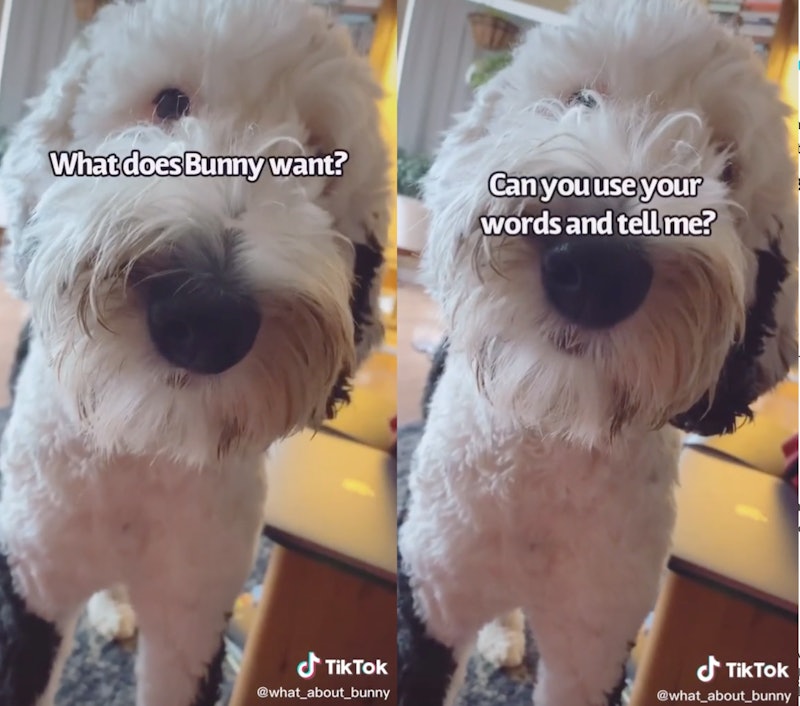 Have you ever wished for dogs to have the ability to talk? Well, you better be ready because we're going to introduce you to a wonder dog that can actually do! Internet, meet Bunny! She's a one-year-old Sheepadoodle with 5 million followers on TikTok and she can talk to her owners!
Bunny doesn't actually speak. It's not similar to the case of a Huskies and other dog breeds that can sound words like "I love you" and "I am", this one is different, so different because there's an actual conversation that goes on.
Bunny engages in conversations with her owner by using a pad of buttons with pre-recorded audio commands! The pad has words like "walk", "park", "mom", "night", "poop", "upstairs", "dad", and "I love you." Bunny presses on the pad whenever she wants to communicate something.
You have to see it to believe it.
It's the sweetest whenever she would randomly say, "I love you, Mom" and look for her dad who happens to be working upstairs.
Bunny is closely working with a group of researchers that are currently collecting data on dogs' ability to communicate. Alexis Devine, Bunny's human, encountered the soundboard years ago when she read about Christina Hunger's work on speech-language pathology. With a sound device, Hunger was successful in teaching Stella, her up, how to communicate. It's exactly the same thing that happened with Bunny.
"Outside" is the first word that Devine introduced to Bunny through the system. When Bunny already learned that the button sound corresponded to something, she started adding more words. Nowadays, when Bunny wants water, she would simply press "water", when she wants to go to the beach, she would press "beach", "now", and "go."
The study is still ongoing and so many dogs are participating in it. Once the results are out, we'd be better equipped in giving our dogs more love and care as we'd easily be able to know if they're happy or in pain. And what a good day that would be! Keep on rocking, Bunny!